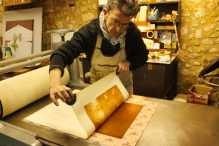 Biography
BIBLIOGRAPHIENé le 2 Juillet 1959 à Dieppe Pascal LEDOUX gra

Read more
2

3

7

0

3

5


visitors since 21/01/2012
Golden Book
Anonimart Ano FR
impressionnant ! :)comme tous les amateurs de sieste, j'adore quand le livre dort ! ...
Vestier Marie-france FR
J'ai découvert vos oeuvres avec beaucoup d'intérêt et ai eu un coup de coeur pour vos sanguines.B...

All testimonials
Cours
Initiation à la pointe sèche /perfectionnement eau forte
Première gravure (emploi d'un matériel souple, qui permet au...



3 rue du Loup
24500 Eymet
Ain FR
Phone: 0 553 232 875 le soir
Portable: 0 671 452 150
My courses

Patronage
Benefit from tax deductions for the purchase of a work of art....

Read more